Solutions for your
document management
Secure storage with easy sharing and signing
of documents for organizations, companies and projects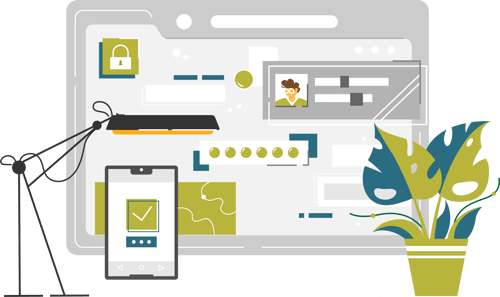 A short information film about the edition
iCoordinator™ Customer Portal
iCoordinator™
Main Features
Secure storage and easy sharing of documents for organizations, companies and projects

iCoordinator™ is a cloud-based solution for secure storage and easy sharing of documents for organizations, companies and projects that meet different users' requirements for collaboration and mobile access with the possibility of powerful access control, document viewing and subscription to changes.
See the main features below:
Permission to read or edit can be given for a user or a group to a folder or an individual file, which creates a high level of security in various collaborations.
Files and folders can be marked with labels (metadata), which allows the user to easily categorize and organize their files.
The smart folders act as virtual folders, and with the correct labeling of Labels, files can be automatically managed and organized into a specified folder.
With iCoordinator ™ Web Extension makes it possible to seamlessly open-edit-save files directly from browsers using your local software, ex. Word.
The built-in web-based document viewer for browser and mobile can display hundreds of different file formats such as PDF, Word, Excel, image files and DWG.
iCoordinator ™ has built-in automatic version control that updates version numbers continuously and provides the opportunity to go back to an earlier version if necessary.
iCoordinator ™ provides the ability to add files to a specific workspace or folder on the portal by sending the files as attachments via email.
The availability of files on mobile devices gives users access to files no matter where they are on smartphones and tablets (iOS & Android).
Effective Collaboration
One of the key aspects of iCoordinator™ is to enable effective collaboration between the internal as well as external users. Users can easily upload files, organize them into folders, share link of the files to other users. With file level read & edit permission settings, only the permitted users will have the possibility to read or edit the files.

Value-creating editions
of iCoordinator™
iCoordinator™ is available in a number of editions that are designed to suit customers with different needs.
See the four editions below:

Customer portal
Provides the opportunity to share documents with all the company's customers and suppliers at a fixed, low and calculable cost.
Project
When the project needs a neutral place where participating companies and organizations can share documents independently of the internal systems of each participant.
Enterprise
The edition that is aimed at those who are looking for that little extra, both in terms of functionality and access to service and support.
OEM
Is an edition aimed at cloud providers of other IT services and who want to use selected parts of iCoordinator's clients as part of their own service under their own brand.
Our work is the presentation
of our capabilities
Designtech has a long habit of combining different services to create a well-functioning complete solution for you as a customer. We work together with customers to understand their needs and provide solutions that ensure business results.


Support
All users covered by our support agreement have access to our support via e-mail or telephone.
We analyze your needs during a workshop and then help to implement the current solution based on the decided guidelines.
We provide training for all our products and solutions for both individuals and groups.
Based on one of the powerful templates in HubSpot or Drupal, we adapt to you as a customer and are able to create a website, large or small, that fits your needs.
Our development team can handle websites in HubSpot and Drupal, product development, integrations and customized systems.
"BDX was looking for a supplier with long document management experience from a project perspective. We chose Designtech partly because of their very long document management experience and partly because they have a proprietary document handling platform with file synchronization, saving time for our fellow workers."
"Designtech Solutions is a strategic partner with extensive experience and excellence in its field, which our common customers will benefit greatly from."
"We have worked with Designtech for many years now and our cooperation has expanded over the years as our needs increased. An important part of the cooperation is that Designtech's consultants understand our operations very well and can thus deliver customized solutions that meet our needs."