Value-creating editions of iCoordinator™
iCoordinator™ is available in a number of editions that are designed to suit customers with different needs.


See the four editions below: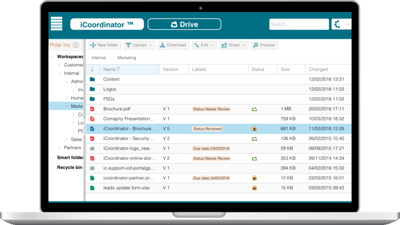 iCoordinator™ Customer Portal
iCoordinator™ Customer portal provides the opportunity to share documents with all the company's customers and suppliers at a fixed, low and calculable cost.

Through its own customer portal, the company can share files with customers and suppliers in a professional, secure and authorization-controlled manner.
READ MORE
iCoordinator™ Enterprise
iCoordinator™ Enterprise is the edition that is aimed at those who are looking for that little extra, both in terms of functionality and access to service and support.

In addition to all the features found in other editions, in Enterprise you have access to iCoordinator Desktop which allows you to synchronize the files between the portal and the file manager on your local computer.
READ MORE
iCoordinator
™

Project

The basic idea with iCoordinator™ Project is to facilitate document-based secure collaboration in projects.

Feel the peace of mind of having control over the projects, even when many organizations are involved, gnome to minimize the risk of unauthorized access to materials and information that they should not have access to.
READ MORE
iCoordinator™ OEM
iCoordinator™ OEM is an edition that is aimed at cloud providers of other IT services and who want to use selected parts of iCoordinator's clients (Web, Desktop, Mobile and Web Extension) as part of their own service under their own brand, so-called OEM or White labeling.




READ MORE