Powerful multi-project management solution
ProjectCoordinator® is a web-based project management and collaboration software that can act as the central collaboration hub of businesses, enabling them to collaborate easily, manage projects efficiently and achieve higher productivity with the resources.
ProjectCoordinator FAQ
Here you can find the answers to some of the most common questions about ProjectCoordinator!

Are you an existing customer?
Existing customers with ongoing agreements on ProjectCoordinator can extend their existing licenses.

Contact your customer manager to find out more.

CONTACT US
Are you a new customer?
ProjectCoordinator has been replaced by iCoordinator for new customers.

You are welcome to contact us if you want to know more about what iCoordinator can do for your project.
CONTACT US
All your key tools in one place
With ProjectCoordinator® organizations get a real time view of different projects and activities and their time lines that are happening between departments and locations. ProjectCoordinator® helps in having all the projects and related activities in a single place and one can easily create plans, enter the time lines, add the resources and track it based on the progress. With the in-built resource management area, organizations can effectively manage their resources and ensure optimum utilization.

If there are costs allocated to activities, it can be easily tracked and have Budgeted Vs Actual analysis enabling you to have a better control of your finances. Keeping track of your activities, resources and expenses on timely manner helps organization to execute their tasks on time, keep their deliveries efficiently and keep their customers happy.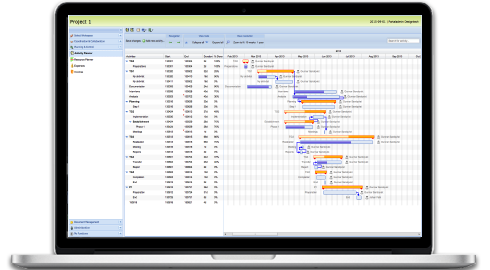 Project Planning
Plan and follow up your daily activities
The Activity planner in ProjectCoordinator® helps users to create project plans, add activities and track and monitor them on a day-to-day basis. ProjectCoordinator® allows import and export of Microsoft Project plans within the planner.

The solution provides different reports and graphical representations like Gantt charts for better management and readability of project plans.
Resource Management
Get control of your resources
ProjectCoordinator® allows an easy way to build the projects and ensure optimal utilization of the resources.

With a full- fledged resource management area, ProjectCoordinator® makes it easier to define roles and skills on a resource level and it assists in identifying the resources with specific skills who are free within a given time period through the resource utilization dashboard.
Cost Management
Cost control is crucial for projects
Keeping track of the cash flow within the project and monitor the expenses is one of the crucial aspects in projects.

ProjectCoordinator® has the ability to track actual cost and budgeted cost against project related activities and have an built-in cash flow management system. The expenses feature comes with provision to enter the actual expenses and the budgeted expenses (in different currencies).